Our LLM program is open to students from all over the world who have successfully completed a graduate degree in law. Practical and interdisciplinary, our program provides students with the toolsthey need to succeed in the competitive environment of international business law.
About
The HEAD LLM is an elite program that offers business law courses co-taught by leading professors from the French universities and legal practitioners. These law courses are combined with related subjects such as economics, finance and humanities. A special emphasis is placed on global studies and professional savoir-faire. It is a unique program that opens doors to the best international law firms as well as to in-house legal functions in multinational firms and organizations.
Our LLM in Law and Business program is offered entirely in English.
Learning Objectives
Familiarize yourself with different legal systems

Acquire an understanding of the global business world

Prepare yourself for a professional environment

Gain a competitive edge over your peers

Develop your network

Discover a different culture



HEAD Law School challenges its students to think in an innovative and creative way, to deepen their understanding of essential legal concepts and
 develop general skills which are essential for effective integration into working life.

Testimony of Christopher L. Baker, Former Member of the New York and Paris Bars, co-founder of the HEAD school
​
:
« I know of no other programs that are so focused on developing the practical skills and understanding essential to a successful carrier in legal services, while also relentlessly pursuing intellectual rigor and academic excellence. »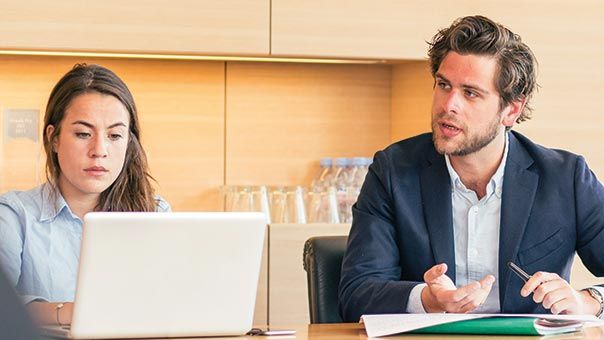 Entry requirements : open to law graduates
Next starting : October 5, 2021
Duration : 9 months + 6 months of professional experience
Rhythm : Full time – October to June
Registration :
We invite you to download the following application form. Then fill in the application form, attach required documents and send by email to the Head of International Development at HEAD, Joan Betti : joan.betti@ecolehead.fr. We work on a rolling admission system so it is best to apply asearly as possible.
Professional qualification : the HEAD LLM is an advanced degree for legal professionals and the diploma is eligible for certification as a « Level 7 » professional qualification for business lawyers recognized by the Répertoire National des Certifications Professionnelles (RNCP), the state agency responsible for the certification of professional qualifications.
HEAD provides a great exposure to all the students, as it is a great place to build network with the leading professionals of France. Regular interactions with these professionals in classes and in conferences has been very helpful in understanding the practical working environment in law firms and a companies  and the approach to find the solution to a legal problem by using the practical skills.
Shilpa Anand, India, Alumna promotion 2014-2015
LLMs Programs
HEAD School of Law offers 7 LLM programs :
A general LLM Program 100% english :
 LLM in Law and Business
This program has been developed by leading university professors from the Sorbonne, partners in major law firms and general counsel of multinational corporations. Interdisciplinary curriculum: includes advanced courses in law, as well as in business, finance and management, designed to provide young lawyers with an understanding of business transactions in a global environment.
A head start to your legal career : opens doors to the best international law firms as well as to in-house legal departments of multinational companies and organizations.
The HEAD LLM in Law and Business has been ranked among the top 10 Mastères in Law and Business in France (Source EDUNIVERSAL/ SMBG 2020).
Key modules : International Contracts, Financing Contracts, French Contract Law, Anglo-American Contract Law, Business Economics for Lawyers, M&A,
Financial Analysis, Introduction to French Law and Methodology, Legal Drafting & Negotiating Skills, Oral Presentation & IT Skills, Language Skills
6 specialized LLMs in Law and Business Bilingual Track :
LLM in Business Contracts
You are : a student or a young practitioner in law and you wish to acquire international exposure and a good understanding of the global business environment.
Your goals :
Negotiating and drafting national and international business contracts
Juggling between the Civil Law and Common Law systems, mastering negotiating and drafting techniques, avoiding contractual insecurity, and encouraging contractual performance.
Becoming a business lawyer capable of promoting your client's business strategy
Preparing yourself for the practice of law in today's global economy requires that the study of law be supplemented by business-related courses including economics, finance and strategy…
Testimony :
«The richness of knowledges, both technical and practical, imparted to the students, the strength of the professional network supporting the school and the international emphasis are my three main motivations for teaching at HEAD.»
Hervé Kensicher, Member of the Paris Bar, lawyer at Mayer Brown, Coordinator of the LL.M.
LLM in M&A
You are : a student or young practitioner of law and you wish to practicein the area of M&A.

Your goals :
Develop the range of skills necessary to play your part in a multidisciplinary, often

 international team, such that you can comfortably interact with financial advisors and

properly advise your client.

Gain a panoramic view of the world of mergers and acquisitions.

Understand the ins and outs of an M&A transaction at each of its various stages, from its inception, to finding appropriate financing, to negotiating and drafting the necessary documentation, to closing the deal, to putting in place a process for a

 successful integration.
Testimony :

«Merger and acquisition transactions require a perfect mastery of diverse disciplines and a tremendously open mind. HEAD's pragmatic and multidisciplinary approach
allows its students to learn about this fascinating universe at the heart of company life.»
Emmanuel Brochier, Co-founder of HEAD, Partner at Darrois Villey Maillot Brochier and
 Coordinator of the LL.M.
LLM in International Tax Law
You are : 
a student or young practitioner of law and you are interested by a first or a new professional opportunity like Tax law specialist,
 Private practice business lawyer,
 In-house counsel
, Tax consultant
…
Your goals :

Acquire an understanding of complex national and international tax issues.

Propose solutions to your clients that are compatible with your client's global trade objectives and investment strategies.

Understand key business imperatives so as to be able to integrate tax strategies in a larger context.

Gain IT skills as well as accounting and financial know-how.



Testimonies
« HEAD is the perfect place to develop
 both personnally and professionally.
Between the innovative education,
 the close friendships among the
 students, and the abundance of
 cultural activities available in Paris,
 one could not ask for a better law
school experience.
« 
Nicole Navarre, US student,

Alumna 2015, Master of Laws International Tax Law, Associate Attorney and Therapist at Paula E. Bruce, Ph.D.
 & Associates, State Bar of California
«We share with HEAD a taste for innovation, a passion for excellence and the audacity that enables us to prepare tomorrow's tax lawyers to practice in a global business environment.»
Sabine Binisti, Founder at Cabinet ASBV,
 Coordinator of the LL.M
.
LLM in Digital Technology Law and Intellectual Property
You are : a student or young practitioner in law who wishes to participate in the legal
 revolution brought about by the digital transformation and the digitalization of the
economy.
Your goals :

To master digital technology law, that essential area of law on which a company's

 development relies.

To be able to value accurately a company's intangible assets, and to secure the

 protection of those assets by effectively negotiating and drafting operating contracts…

To acquire the technical IT skills and practical know-how that will enable you to

 accompany your corporate clients as they grow.

To enhance your knowledge of new technologies by working with experts in the field, including computer scientists and engineers. To learn how to launch a start-up

 and how to construct an innovation strategy.
« This LL.M. ensures that the students master the law relating to digital technology and IP and understand today's technological innovations. It forms the next generation of lawyers, capable of contributing to the energization of company creativity, while assuring its protection, within a perpetually evolving legislative context. »

Constantin Pavléas, Founding Partner at Constantin Pavléas Avocats,
 Coordinator of the LL.M.