Our LLM program is open to students from all over the world who have successfully completed a graduate degree in law. Practical and interdisciplinary, our program provides students with the tools they need to succeed in the competitive environment of international business law.
About
The HEAD LLM is an elite program that offers business law courses co-taught by leading professors from the French universities and legal practitioners. These law courses are combined with related subjects such as economics, finance and humanities. A special emphasis is placed on global studies and professional savoir-faire. It is a unique program that opens doors to the best international law firms as well as to in-house legal functions in multinational firms and organizations.
Our LLM in Law and Business program is offered entirely in English.
Courses may be held either on the HEAD school premises, 120 rue La fayette 75010 Paris, or, with the approval of the school administration, at the offices of an instructor, which may be, for example, at a law firm or other organization. Courses may also be held virtually, whether at the discretion of the school administration, or in compliance with sanitary or health requirements that may be imposed by a governmental authority from time to time.
Learning Objectives
Familiarize yourself with different legal systems
Acquire an understanding of the global business world
Prepare yourself for a professional environment
Gain a competitive edge over your peers
Develop your network
Discover a different culture

HEAD Law School challenges its students to think in an innovative and creative way, to deepen their understanding of essential legal concepts and
 develop general skills which are essential for effective integration into working life.

Testimony of Christopher L. Baker, Former Member of the New York and Paris Bars, co-founder of the HEAD school
​
:
« I know of no other programs that are so focused on developing the practical skills and understanding essential to a successful carrier in legal services, while also relentlessly pursuing intellectual rigor and academic excellence. »
Program of study
The LLM in Law and Business Program is comprised of a wide range of classes aimed at providing students with a rich mix of technical and non-technical skills necessary to a successful legal career in the international business environment.
These courses have been carefully selected not only to enhance the student's professional readiness, but also to satisfy the requirements necessary to obtain the certification Business Lawyer", Level 7, registered at the Répertoire National des Certifications (« RNCP ») under number 34694.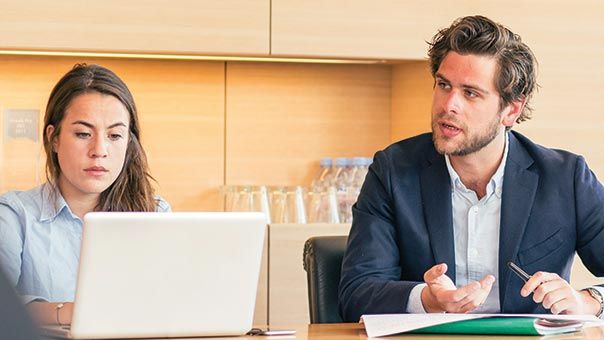 Entry requirements : open to law graduates
Duration : 
9 months + 6 months of professional experience*
approximately 500 hours (including examinations)
Rhythm : Full time
Academic calendar :
October 2023 intake : from Tuesday, October, 2023 to the end of June/beginning of July 2024
January 2024 intake : from Tuesday, January, 2024 to the end of 2024

Language : english
Diploma and certification :
To be eligible for a diploma from HEAD, a student must successfully complete at least 60 ECTS credit hours.
To obtain the RNCP certification of "Business Lawyer", Level 7 (« Juriste d'affaires », niveau 7) a student must, by virtue of the courses taken, the Professional Experience and Professional Report, receive credit in each of the required competences and skills. This certification is currently being examinated by France Compétences for its renewal.
Accessibility for people with disabilities : yes
You can contact our disability advisor to express your specific needs : aurelie.cheron@ecolehead.fr
Find out more about our disability measures et specificities.
** If a student so chooses, it is possible to successfully complete the requirements necessary to obtain the internationally recognized LLM diploma from HEAD without completing all of the requirements necessary for the RNCP certification (for example, a student may successfully complete the credit load and other requirements necessary for the HEAD diploma, and forego the Professional Experience or Professional Report requirement necessary for RNCP certification.) More information regarding this option is available from the school administration.
Registration
We invite you to download the following application form.
Then fill in the application form, attach required documents and send the application with the attached documents by email to the Head of International Development at HEAD, Joan Betti : joan.betti@ecolehead.fr. 
We work on a rolling admission system so it is best to apply asearly as possible.
Courses addressing the core legal concepts included in the LLM in Law and Business Program make up approximately 40% of the courses in the program (Block Mastering the Law). The remainder of the program (Blocks 1 to 5) is made up of courses that are divided into the 5 Blocks, and the competences covered are described below.
BLOCK Mastering the Law : Business Law

International Contract Law
French Contract Law
Acquisition Contracts
Industrial Property in the Digital Age: Patents, Licenses and Building an IP Portfolio
M&A and IP
Data and the Law
Competition and the Regulation of the Telecom Industry
Litigation in the Digital Sector
International Tax Strategies
Merger Control, Cartels and Abuse of a Dominant Position
M&A Transactions
Learn more about the training :
BLOCK 1 : Informing and advertising clients about legal issues
Professional Experience
Professional Experience Report
Defense of Professional Experience Report
Legal Research and French Methodology
BLOCK 2 : Preparing legal documents, and ensuring their proper execution
Contract Management
Contract Negotiation
Contract Drafting in English
American Business Associations
BLOCK 3 : Prevention of risk and accompagning clients through compliance procedures
The Fundamentals of the Corporate Duty of Vigilance
BLOCK 4 : Defending a client's interests and managing disputes and litigation
Moot Court in Arbitration
International Commercial and Investment Arbitration
Mediation
The Art of Persuasion
BLOCK 5 : Coordinating a legal practice
English Communication Skills
French communication skills
The HEAD Law School Community
Mentorship and Professional Development
Marketing for Lawyers
Conducting an Efficient Business Strategy
Reading Financial Statements and Financial Analysis in the Anglo-Saxon World
Leadership and Management
Our added values
Programs focused on both the Common Law and Civil Law Systems
Interdisciplinary curriculum (Law and Business Courses)
Practical courses and learning experiences (Law Clinic, Moot Court…)
Networking opportunities (including with mentors, almuni, lecturers…)
Diverse cultural and professionnal oppourtunities
Professional opportunities
Business Lawyer


Banking Lawyer

Legal counsel
Contract Manager

HEAD provides a great exposure to all the students, as it is a great place to build network with the leading professionals of France. Regular interactions with these professionals in classes and in conferences has been very helpful in understanding the practical working environment in law firms and a companies  and the approach to find the solution to a legal problem by using the practical skills.
Shilpa Anand, India, Alumna promotion 2014-2015
Mis à jour le 21 avril 2023